http://rgho.st/6PrbgrYvp
REVIEW OF A READER
This was my very first chess book I checked out at a library several years back, and had the most enlightening impact on my game. All the credit goes to this book exclusively and I can't emphasize enough how damn good this book is. It is absolutely indispensable in scope and comprehension. Highly recommended to beginning chess players who at least know how to play the game or have a basic grasp on how to play chess.
Bruce Pandolfini takes you through many different games,(it is best to get a chess board and dedicate a 30 minutes to an hour a day 3 days a week going through the motions. Better to use a real chess board than an online program to really get the feel for how the moves and tactics interact with each other. Online programs are good practice, but nothing beats using a genuine chess set when first starting out and upping your game to new levels.
There is a section on the tenets or general rules to go by, another section on what the tactics are called with examples. There is also asection on highly recommended books by Bruce to advance your game from beginning to advance and what steps you can take to reach chess mastery. This is not a childrens book, but a well put together set of tactics and strategical gameplay. Even great chess players that I have know had good things to say about this book.
Despite the title being called "The ABC's of Chess" this book gives you a crash course in chess concept from A-Z and will really open your eyes for the game. It is very easy to read and by the time you read through and go through the game motions illustrated in the book your chess game will open up to greater heights. Very highly recommended to people just starting out or even to people that have played chess for just a few years, but never really knew anything more than sacrificing pieces just to win games.
If you get ONLY one book on beginning chess books get this one, and hide it from your friends while you crush them assuming they haven't gotten a hold of the same book or are a chessmaster.
This is the only chess book that really is worth it's weight in gold and in spite of the title(throwing you off thinking it's a children's book on chess)I assure you it is NOT! It is the book that will get you on the road to conquering the chess board and having your friends pull their hair out wondering how you know what you know when you get them in pins, forks, skewers, and undermining them(all tactics thoroughly explained in the book)
Product details
   Paperback: 208 pages
   Publisher: Touchstone (24 April 1986)
   Language: English
   ISBN-10: 0671619829
   ISBN-13: 978-0671619824
THANKS TO THE ORIGINAL UPLOADER/SCANNER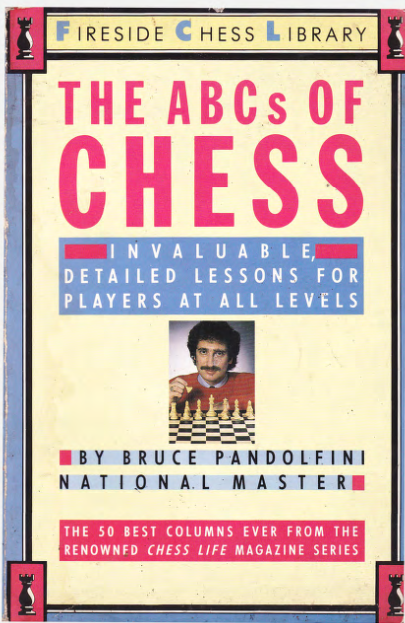 WhiteKingCHESS




Posts

: 205


Points

: 1810


Reputation

: 1379


Join date

: 2019-02-12



File is deleted. Please reupload

tanvirrahman




Posts

: 131


Points

: 119


Reputation

: -12


Join date

: 2019-10-25



Hi
https://www59.zippyshare.com/v/sk7junev/file.html
Regards ...

Inzebab




Posts

: 469


Points

: 1482


Reputation

: 1011


Join date

: 2017-09-28



---
Permissions in this forum:
You
cannot
reply to topics in this forum