Here I am sharing the most awaited book for a long period of time.
http://rgho.st/8FmtcCvvP
A real gem! Karolyi manages to entertain and instruct. When Magnus plays, it all looks so easy." (Karsten Muller, Grandmaster Author of Fundamental Chess Endings)
"Karolyi's latest book on Carlsen will receive even more acclaim than his work on Karpov's endgame technique. He has a pleasant style of analyzing: objective, not too many variations, with plenty of diagrams. He always ends with useful observations on Carlsen's play." (Hans Bohm De Telegraaf (Holland))
"A fantastic book on Carlsen's endgame technique, from which one can learn a great deal." (Dirk Schuh, International Master)
"Karolyi provides 91 examples of endgames in which Carlsen squeezes water out of a rock." (Johan Hut Noord-Hollands Dagblad)
"How does he do it? That is the question tackled by Karolyi. The Games are presented chronologically, so we can appreciate how the 16th World Champion has honed his skill, as well as try to copy a little of his technique in our own games." (CHESS Magazine (UK))
"One of those must-have endgame books." (Elburg Chess Reviews)
"It's nice to be reminded of so many great moments!" (Simen Agdestein, Grandmaster, former trainer of Magnus Carlsen)
"I enjoyed marveling at Carlsen's astonishing ingenuity in finding new ways to tie up his opponents with only minimal material on the board. It would be a good book to inculcate juniors into the joys of playing endgames!" (Matthew Sadler, Grandmaster, former British Champion)
"I think that this book would be useful to just about any chess player. If you are serious about improving, then this book is an excellent way to better your endgame skills. If you are simply a fan of Magnus Carlsen or of well-played chess, then this book is also for you! I highly recommend this book to anyone and everyone." (Chris Wainscott On the Road to Chess Master)
Tibor Karolyi is an International Master and a former Hungarian Champion. He is an experienced chess coach (Peter Leko was one of his pupils) and a prolific chess author. In 2009 he published 'Endgame Virtuoso Anatoly Karpov' to wide acclaim.
Paperback: 249 pages
Publisher: New In Chess (August 15, 2018)
Language: English
ISBN-10: 9056917765
ISBN-13: 978-9056917760
THANKS TO LEGIT_KING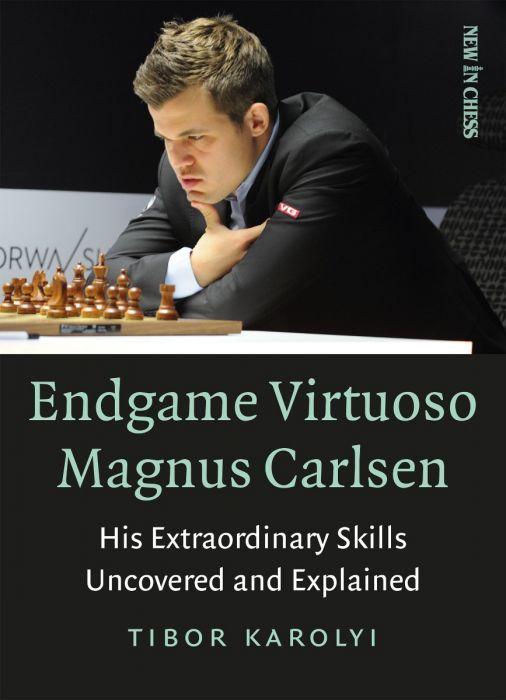 WhiteKingCHESS




Posts

: 205


Points

: 1811


Reputation

: 1380


Join date

: 2019-02-12



Endgame Virtuoso Magnus Carlsen by Tibor Karolyi, New In Chess 2018 (PDF) OCR'ed 31 MB
link:
Code:

http://www.mediafire.com/file/5aygc7od86gpsaw/Endgame_Virtuoso_Magnus_Carlsen_-_Tibor_Karolyi.rar/file
many thanks to WhiteKingCHESS and legit_king

Kheireddine




Posts

: 73


Points

: 466


Reputation

: 389


Join date

: 2016-06-29




eiger




Posts

: 65


Points

: 60


Reputation

: -5


Join date

: 2019-02-05



Tanks you Kidd

Benishimoto




Posts

: 100


Points

: 170


Reputation

: 44


Join date

: 2018-04-01


Age

: 29




ATN2019




Posts

: 8


Points

: 21


Reputation

: 9


Join date

: 2018-12-01



Hi guys! Here it is the Kindle (converted to Epub) version of the book.

Link: https://www.solidfiles.com/v/jXKvN8NrRV2M5
Link: https://anonfile.com/hc6bX3r1nc/Endgame_Virtuoso_Magnus_Carlsen_-_Tibor_Karolyi_epub
Link: https://www113.zippyshare.com/v/7o03JmUD/file.html

Enjoy

chessjp




Posts

: 5


Points

: 48


Reputation

: 43


Join date

: 2012-10-29


Location

: Brazil



thank you!!!

abuhca




Posts

: 11


Points

: 17


Reputation

: 6


Join date

: 2019-05-06



---
Permissions in this forum:
You
cannot
reply to topics in this forum