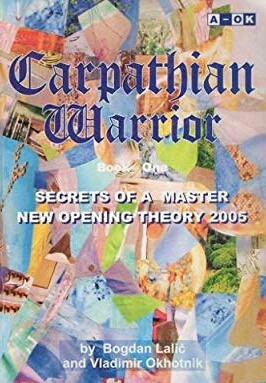 "The Pirc - Modern is probably only 75% correct", is what the authors maintain. Yet the strategic and tactical complexity make for excellent fighting ground. This book contains a range of very dangerous systems for black and white, such as the Austrian, the Hippo, the Spike and the Left Hook. You will also find some surprising anti- Philidor material.

Carpathian Warrior - vol.1.pdf
https://m.vk.com/doc157161465_478738868?hash=69bfeade5008bf6797&dl=5d1674ccab0f46773c

 Carpathian Warrior - vol.2.pdf
https://m.vk.com/doc157161465_478738928?hash=821d58fbaa11d6ed05&dl=b56e8e1644a8b7174e

We are happy to offer you Book Two of the Carpathian Warrior series and we hope that this book will help chess players all over the world. Your pleasure and practical successes will be our reward. Tell a friend about us.

This book is intended for all skill levels. When the subject matter is too dense, perhaps, for some intermediate players, as in the aptly named Chaos Counter Attack, for example, the hesitant player is well advised to simply memorize the list of playing axioms, go forth, and just play chess, returning to this book for comparative purposes only. In this way you will gradually understand the material and acquire a repertoire. Analyzing your own games is important. Aspiring players, roll up your sleeves and plunge in to the water, even if you don't understand a thing! Relaxing and moving with the river of analysis is like listening to the music of an exotic Indian raga. At first the music is only in the background.

Gradually you become aware of how magnificent it really is and you realize that, from the beginning, you hadn't really been listening at all, until now. Playing and studying chess really gives you a feeling of increased intelligence because concentration leads to more awareness. There really is something sacred about long and hard work. Many chess players report that after a tournament they feel mentally faster, more alive and aware. We heartily agree.

The advanced player can zoom past the rules of thumb and dive into the ocean of theory immediately, if he so wishes. Master players are urged to, at least, skim over the playing axioms. As you will soon see, this is a good way to manage the staggering complexity you are about to experience.

Carpathian Warrior Criteria and Rationale:

1. The topic must be unusual or new, perhaps radically overturning previous theory.

2. The topic chosen must occur early in the game, preferably, in the first 5-10 moves. We strive for new ideas, early in the opening.

3. Four to five articles per book, in depth, for both sides. Each tome building upon the previous one.

4. The selected topic must be truly useful with enough analytical development to meet your "real world" needs.

5. The topic must be beautiful and have a catchy handle or name.

We believe that this book meets or exceeds all of the above criteria. Enjoy! See you in the playing hall!

P.S. Now, you'll become a Carpathian Warrior too!

jiri




Posts

: 750


Points

: 4666


Reputation

: 3179


Join date

: 2012-04-25




macjones19




Posts

: 66


Points

: 108


Reputation

: 32


Join date

: 2018-09-18




camerasrepairman




Posts

: 220


Points

: 246


Reputation

: 32


Join date

: 2018-10-02



---
Permissions in this forum:
You
cannot
reply to topics in this forum