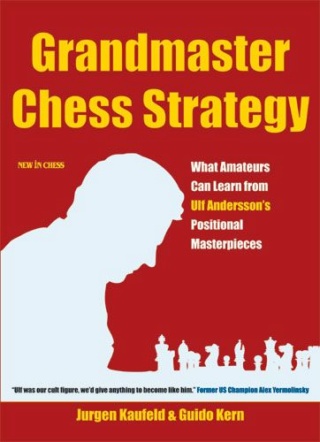 Grandmaster Chess Strategy What Can Learn from Ulf: What Amateurs Can Learn from Ulf Andersson
Authors
Guido Kern, Jürgen Kaufeld

https://m.vk.com/doc321065665_477236302?hash=0d6853bf84786c5fd5&dl=07fe924b2f329969a2
Best,
OCR Clearscan with Bookmarks-5.7MB

http://rgho.st/89F7yjHQz
http://www.solidfiles.com/d/5d3b740694/
https://www83.zippyshare.com/v/MykHdZLk/file.html

http://www.solidfiles.com/d/5d3b740694/Grandmaster-Chess-strategy-Kaufeld--Kern-2011-OCR-Bookmarks-5.7MB.pdf
SHORTLISTED: ChessCafe Book of the Year Award
SELECTED: One of the BEST books of 2011 - CHESS Magazine

What Amateurs Can Learn from Ulf Andersson's Positional Masterpieces

One of the most effective ways to improve your chess is to take a world class-player as your example. By collecting his games, studying his choices and examining his style, you will understand what made him rise to the very top.

This is what Guido Kern and Jurgen Kaufeld have done with Swedish chess legend Ulf Andersson, a positional genius with a crystal-clear style, who rose to the number 4 spot of the FIDE world rankings.

Kaufeld and Kern have selected 80 of Andersson's games and grouped them into 15 thematic strategy lessons, pinpointing exactly how the Swede made the difference in each case. Their instructive verbal explanations will improve your strategic skills and your positional feeling.

Every chess player knows how difficult it can be to convert an advantage into a win. Positional technique is what you need and Grandmaster Chess Strategy teaches you exactly that.

Throughout the book the authors have selected dozens of test positions at particularly instructive stages of the games.

Guido Kern (1961) is an International Master and an experienced chess trainer for the German Chess Federation. Jurgen Kaufeld (1976) is a FIDE master who works as a chess trainer in clubs and schools.

Former US Champion Alex Yermolinsky:
"Ulf was our cult figure, we'd give anything to become like him."

KARL Magazine:
"The choice of the games is just as good as the penetrating analysis and the didactic presentation. The authors unlock the essential characteristics of each position by showing the ideas behind the moves."

IM John Donaldson, jeremysilman.com:
"One wonders if many players, especially time-limited amateurs, might not do better to adopt Andersson's approach emphasizing overall understanding in place of memorizing lots of sharp opening theory. Strongly recommended."

Joe Petrolito, Australasian Chess Magazine:
"A good mixture of prose and variations (..) The book is both an anthology of best games and a teaching text on positional chess. It can be enjoyed on many levels."


Chess Moves Magazine:
"The annotations are ideally suited for the average player - clear verbal explanations, supplemented by sufficient, but still relatively few, variations."

Brian Almeida, ChessCafe:
"Positional precepts are often a mystery to many a player, but Kaufeld and Kern's explanations are so percipient that average players will come to a deeper understanding of the concepts of positional play. There are few books that speak to its audience in such an accessible manner."

Arne Moll, ChessVibes:
"Reading 'Grandmaster Chess Strategy' is an invigorating experience which will stimulate your positional vision and make you appreciate the subtle features of chess."

Johan Hut, Gooi en Eemlander:
"It is more a middlegame than and endgame book. The central theme is: how to convert small positional advantages into a win."

Grandmaster Peter Leko:
"This book opens our eyes!"

Harald Keilhack, Schach Magazine:
"From Andersson, better than from anyone else, one learns 'pure' chess, without being distracted by tactical coincidences."

6-times Norwegian Champion (and trainer of Magnus Carlsen) Simen Agdestein:
"A great book! Andersson was my idol, too."

Jeremy Silman, author of 'How to Reassess Your Chess':
"If this was just a collection of his games, I would be high on the bo
ok. However, the authors took things to another level by not only offering 80 of his finest games, but also making each one a lesson. The notes are simple and clear, and the writers go out of their way to explain all the key positional features so you can follow what's going on and learn from it. Adding greatly to the instructional value are test diagrams."

Sean Marsh, CHESS Magazine:
"Excellent."

Richard Vedder, Schakers.info:
"There must have been many who, after losing from Andersson, have asked themselves in despair: where on earth did it go wrong? (..) A book for collectors, for connoisseurs, and for chess players who want to improve."

jiri




Posts

: 743


Points

: 4614


Reputation

: 3138


Join date

: 2012-04-25



Guys Please please please...share PGN of this book .I have been desperately looking for this one.

Babujaan




Posts

: 14


Points

: 12


Reputation

: 0


Join date

: 2019-04-09




kingpakal




Posts

: 16


Points

: 29


Reputation

: 3


Join date

: 2019-09-10



Guys please can anyone share PGN of this,I saw a pgn uploaded but its incomplete. Please If anyone has share it

Babujaan




Posts

: 14


Points

: 12


Reputation

: 0


Join date

: 2019-04-09



---
Permissions in this forum:
You
cannot
reply to topics in this forum